July 27, 2017.
Setting practice
Well here I am, following my goals and giving myself a kick in the butt. I wasted an hour trying to set up the camera then decided to go to hell with it and just work even if only for half an hour.
I have been wanting to practice on some pave settings for a while now. Last time I did some, I was still in jewelry making school so I didn't practice this for at least 5 years. I do set stones regularly but it's most often in bezel settings and you don't need specials skills to set these. But pave is something else entirely.
Soooo.. In my half-hour, I set three stones. Which is not that bad. You have to understand that stone setting is a job in itself. In high-end jewelry shop, they have one guy for everything. And even smaller shops often give the job to a professional setter when the job is more complicated (more pricey stones or fragile stones, difficult types of settings etc.)
I don't aspire to set micro-pave or Van Cleef's invisible settings (see below). I have more humble goals than that, just being capable of setting a few stone next to each others correctly without breaking them would be magnificent.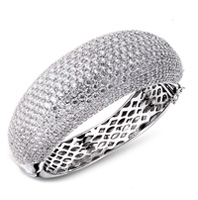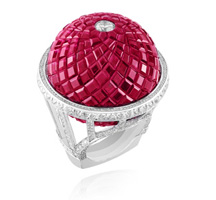 (these pictures are not mine, obviously)
So, as a good practice, I decided to work on a piece of copper, this way I will not be wasting precious material like silver or gold. And no. I am not going to set diamonds. They do are very strong but they can still break and I am not practicing on real stones. What I am setting today are 2 mm round CZ. Perfect for practice and so cheap that I will almost smile if I break one (to give you an idea, minimum quantity you can buy is 100).
I am sorry for the poor image quality, I have to fin a way to get better picture for small details. This in the first stone I set. Went pretty smooth, as usual with the first one. Problems always arise with the others as the more you set the trickier it is to align them all perfectly. The prongs alignement is not bad but could be better and I need to work on making them the same size.
I went too far when making a prong on the second stone and I broke the prong. So the second stone is held by only three prongs. I am really pleased with the alignment and spacing of the stones. All I need to work on is the prong making as they are not well aligned and not the same size.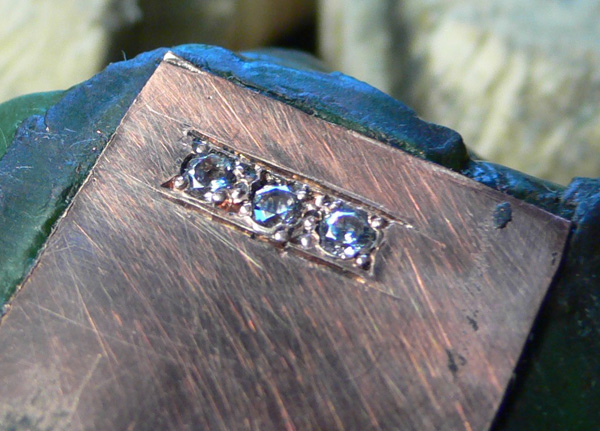 To be continued...
-Dbo
Tag: stones - setting - practice